The community participants collaborating with the professional artists at Keys To The Studio are people diagnosed with neurocognitive disabilities (developmental and intellectual disabilities such as autism, Down syndrome, etc.) who all have a keen interest in making music (the "Keyholders"). Most of the young musicians coming together for this project say they have no other way to pursue the exploration of their musical artistry. Without Keys To The Studio, the practice of art would wither from some participants' lives.
In a larger social context, people with such diagnoses have been subject to discrimination, isolation, prejudice, disrespect and abuse. Sometimes members of the community are multi-marginalized by other factors such as race, economic bracket or lack of respect from caregivers. This has led to barriers impeding their access to things that most other people can take for granted, such as the presence of art in one's life.
In the 2018 Musical Collaboration Project at Keys To The Studio, Keyholders will be Brett Balaban, Eugeni Berengolts, Brian Collinge, Christopher Ercolino, Andrew Everett, Joni Fico, Marvin McCalla, Andre Oliveira, Phillip Panton, Edward Blessington Raymond, Michael Segal, Eric Seguin, Bill Sherman and Risa Sie; who pursue playing music as soloists, in duos with their matched collaborators and by joining together with other musicians at Keys To The Studio to form bands. Their music, talents and ideas are listened to and taken seriously at Keys To The Studio. Keyholders exercise control over musical choices, instruments, compositional styles, pace, sounds and words used, projected outcomes and goals, and the rights of ownership of their final artistic products. Keyholders pursue self-identified aims with encouragement and support such as their personal goals to be a spokesperson for their work, to stage manage, to teach their growing skills to others, to fundraise, to book, publicize and perform their own gigs, to establish their credentials as artists, to audition and to make careers for themselves.
At Keys To The Studio, respect, access, equal participation in society and social connections with people who share an interest in music replace the former exclusionary ways. Keyholders' unique artistic expression gains recognition and acclaim from artists, peers, audiences, caregivers and the public. In the words of one Keyholder "I liked everything about Keys To The Studio, like creating something that hasn't been created before. I learned that anything in the world is possible with a little bit of music. Keys To The Studio means learning and giving the knowledge— receive a little, give a little. Music…lifts you off the ground and makes fantasy come to reality… and makes life."
Brett Balaban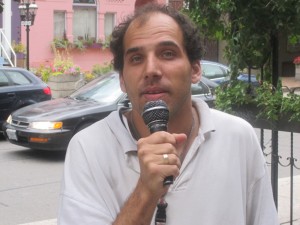 Brett Balaban is an M.C. and vocalist, who has appeared on CBC-Radio's "Definitely Not the Opera" and been invited to workshop at Harbourfront with the touring Australian theatre company Back To Back. Brett has endeared himself to audiences at Keys To The Studio concerts since it began, with his unique, comedic and moving style of performance that he describes as "all by heart and proving points".  He is the first Keyholder to study the harp and his song "Everybody Has A Disability" is frequently performed by the band at Keys.
Oriana Barbato
Oriana Barbato is a versatile bassist with an eclectic style and a vast experience in the Toronto live music scene. She plays bass for tabla soaked electronica project Rakkatak, for urban Latin flamenco fusion band Santerías and has recently joined Toronto's vibrant cover band powerhouse Audio Pilots.  Oriana's adaptability, work ethic, and professionalism have brought her to stages across North America and Europe, where she has shared the stage and been billed alongside world-renowned musicians such as Qawwali master Shahid Ali Khan, Warwick endorsed bass prodigy Jorge Campos and Juno award-winning Canadian songwriter Bif Naked.
Eugeni Berengolts
Dave Clark
Dave Clark, Gemini-winning composer and leader of the improvisational ensemble The Woodchopper's Association, has performed for more than two decades as a drummer and multi-instrumentalist with such diverse collaborators as Gord Downie, Fred Frith, the Nihilist Spasm Band, The Rheostatics, the Sun Ra Arkestra, Gilberto Morales Chiong, Martin Scorsese and Rush's Neil Peart. Dave also teaches music, both at schools and privately at his Toronto studio.
Brian Collinge
Brian Collinge is an avid keyboard player, composer, videographer and computer trouble-shooter. He started his own band, Da Sour Lemons, 15 years ago and joined Keys To The Studio when it was launched in 2007. Brian's work in 8-bit digital music is influenced by soundtracks from electronic games and he uses electronic keyboards and speakers to create his own sound art. He is an avid vlogger, with hundreds of videos posted on the internet. He performed at the Teatro Metropolitan in Mexico City with Keys.
Chris Ercolino
Andrew Everett
Andrew Everett is a keyboard player and digital music composer who has appeared on television for defying doctor's predictions to ride a bike. Andrew's mastery of software to create his beat-driven music has been moving Keys To The Studio audiences to dance since he joined in 2008. He has taught music at the Bathurst Heights Adult Learning Centre and rapped on Mexican national radio to his own electro-beats about his defiance of neighbourhood bullying about his 'disability' which prompted listeners to spontaneously flood the station with positive emails and tweets.
Joni Fico
Joni Fico has been performing on keyboards and drum set with Keys for 9 years. He has a talent for playing music by ear and is a riveting improviser. He also performs with the Surrey Place choir.
Johnny Fletcher
Johnny Fletcher is a singer, rapper, guitarist, keyboard player and composer. He regularly can be found busking around the streets of Toronto. He was featured on Breakfast Television and performed for the premiere screening of a documentary on street busking.
Lori Gemmell
Lori Gemmell is a harpist who has performed with the Kitchener-Waterloo Symphony Orchestra, the National Ballet of Canada Orchestra, the Toronto Symphony, the Canadian Opera Company and the National Arts Centre Orchestra, as well as at numerous solo recitals and chamber music. Lori, who holds a Masters of Music from the University of Toronto, has released a solo album and is a harp instructor at Wilfrid Laurier University.
Dan Goldman
Dan Goldman – Guitarist Dan Goldman received his BFA in jazz performance from Concordia University, and has also studied improv acting at Second City and worked as a freelance guitar instructor and volunteer literacy tutor. He is half of Toronto's Snowblink. In 2009 he was awarded the KM Hunter award from the Ontario Arts Council to recognize outstanding achievement on record. He has performed as a guitarist, pianist and/or vocalist with Veda Hille, Mia Sheard, the Corpus Dance Company, Kitchenmusik, Andy Stochansky, Selina Martin and many others. Dan is working on an album of his own compositions, in collaboration with David Travers-Smith and the Pendercki String Quartet.
Anita Graciano
Anita Graciano was born in Colombia where she studied classical piano, music theory, singing and Latin percussion, attended the Institute Staccato Colombia and played salsa, merengue, son, flamenco, jazz, cumbia, rock and funk with various musical orchestras in Medellin.  In Toronto, she plays with drumming groups Baque de Bamba, Samba Squad and Grand Bateria Express and promotes traditional Colombian folkloric music with Chirimia Baru.  She has worked with excellent recording musicians and directors throughout her career and gives the beautiful power of music to the world, wherever she goes.
Mark Hundevad
Mark Hundevad – multi-instrumentalist and composer Mark Hundevad studied under Cecil Taylor, Dave Holland and Kenny Wheeler, among others. A drummer, vibraphonist and percussionist for 30 years, Mark has played with Jim Heineman, Billy Bang, Phil Nimmons, R. Murray Schafer, Jane Bunnett, Amos Garrett, Divine Brown, Juini Booth, Richard Underhill and many others. He has also released two CDs of his own, and played on numerous other albums.
John Jowett
John Jowett is an instrumentalist (trombone, euphonium, piano), conductor, composer, arranger, teacher and Key Artistic Director of Keys To The Studio which he launched in 2007. He is classically trained (Master of Music, The Juilliard School) and has acted as Music Director or Co-Artistic Director for Hemispheres Music Projects (a jazz/new music fusion orchestra), Dancemakers, and In Absentia: The Memorial Project. He has conducted a symphony orchestra, improvised and composed for a microtonal music ensemble, recorded tracks for a variety of new Toronto bands and he currently plays in Tres Bien Ensemble.
Teppei Kamei
Teppei Kamei is a trumpeter, bassist and vocalist. In addition to collaborative music-making at Keys To The Studio, Teppei teaches music recording at the Trebas Institute and has also worked as a volunteer caregiver and as a producer and sound engineer for numerous live and recorded projects, including a Juno Award winning CD by Leela Gilday.
Joe Kelly
Joe Kelly is a multi-instrumentalist who performs regularly as a singer-songwriter-guitarist with his own band. In additions to his collaborative music-making at Keys To The Studio, Joe is also a music promoter, producer and live sound engineer; he has worked as music channel/content producer for Blackholetv.com and produced major artists in Los Angeles and Dallas with songs featured in Hollywood motion pictures.
Paul Kolinski
Paul Kolinski is a vocalist, multi-instrumentalist, songwriter, bandleader and home recording producer who has played with Clara Engel, Woodchoppers Association and the Woodshed Orchestra, Tom Glenne, Trucks Leaving, Amer Diab, Jonathan Keeley, Matthew Barber, Silent Five and The Evil Twins. His recordings include Music to Mistake You By, Voided by Guises, PK Sings VK, State of Rock'n'Roll, Losta at Sea and The Evil Twins.
Marvin McCalla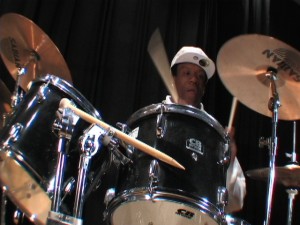 Marvin McCalla is the drummer of the Keys band that performed at the Teatro Metropolitan in Mexico City for the gala concert Inclusion Has Many Voices. He can create grooves in many styles and backs up the band with tremendous beats. He studied drumming at Humber College in Toronto and has performed with Keys To The Studio since it's beginning in 2007.
Jennifer Moore
Jennifer Moore has performed and/or recorded, in addition to Maza Mezé and Pirate Jenny, with such musicians/ensembles as The Evergreen Club Contemporary Gamelan, John Gzowski, Justin Haynes, Legion of Green Men, Laurel MacDonald, Jane Siberry, Andy Stochansky, Kurt Swinghammer and David Wall. She has worked with dance artists Julia Aplin, Susie Burpee, Peter Chin, Yvonne Ng and Heidi Strauss and co-wrote music for Liz Marshall's award-winning documentary Water on the Table. Jennifer released her first solo CD, twig, in 2014; and is currently working on a new composition project. Jennifer a worked as a facilitator at Spiral Garden and for 15 years taught voice and piano privately.
Andre Oliveira
Phillip Panton
Sandro Perri
Sandro Perri is a music producer, songwriter and instrumentalist from Toronto. He has released close to 20 recordings of original music since 1999, as Polmo Polpo and a variety of other projects. He has toured internationally, composed for film and dance, and produced, mixed and remixed recordings for other artists. He has taught guitar privately but the bulk of his teaching experience has come from his 9 years of working with musicians at Keys To The Studio.
Edward Blessington Raymond
Edward Blessington Raymond is a fine singer who writes his own songs and performs them with Keys. He has the great ability to be able to improvise songs on the spot. He also plays keyboards and drums and is an excellent dancer. He has studied acting at George Brown
College.
Michael Segal
Eric Seguin
Eric Seguin is a guitarist, pianist and drummer, who has been influenced by 50's, 60's and 70's rock & roll. Before joining Keys To The Studio in 2008, Eric played alone developing his ear and performance of music and now explores his own compositions. He also plays drums and travelled to Mexico City to play with Keys.
Bill Sherman
Risa Sie
Shawn Skeir
Shawn Skeir is a Toronto artist, illustrator, gallery-owner, vocalist and performer— long part of the vibrant Toronto art scene, with a wide following.  His work is rooted in an emotional urban expressionist style that echoes the movement of light and colour.  In some of Shawn's art, strong influences of his Canadian East Coast and African heritage can be seen.
Categories

Articles

Calendar

January 2019
M
T
W
T
F
S
S
« Mar
1
2
3
4
5
6
7
8
9
10
11
12
13
14
15
16
17
18
19
20
21
22
23
24
25
26
27
28
29
30
31

Meta