The community participants collaborating with the professional artists in this proposed project are the Keyholders. They are an ad hoc group of 20 individuals from the community of people diagnosed with developmental and intellectual disabilities (such as autism, Down syndrome, etc.). The Keyholders are a group of musicians who all have a keen interest in making music, whether or not they have previous musical experience. Most of the young musicians coming together for this project say they have no other way to pursue the exploration of their musical artistry. Without Keys To The Studio, the practice of art would wither from some participants' lives.
The musicians forming the Keyholders have clearly indicated their strong desire to embark on a collaboration project with professional musicians outside of an institution. In a larger social context, people with such diagnoses have been subject to discrimination, isolation, prejudice, disrespect and abuse. Sometimes members of the community are multi-marginalized by other factors such as race, economic bracket or lack of respect from caregivers. This has led to barriers impeding their access to things that most other people can take for granted, such as the presence of art in one's life. Because the community of people diagnosed with developmental and intellectual disabilities historically has not had the capacity to organize, it is crucial to give this community access to expression of their creativity, as it will go a long way toward defining and strengthening their sense of community with peers and the others in society. Keys To The Studio supports the identification of this community as a self-defined group.
In 2013/14 Musical Collaboration Project at Keys To The Studio, Keyholders will be Darcy Attas, Brett Balaban, Michael Bandler, Eugeni Berengolts, Brian Collinge, Shawn Collinge, Eddie Demooy, Christopher Ercolino, Andrew Everett, Joni Fico, James Hazlett, Robert Jedrusic, Marvin McCalla, Lydia McLaren, Andre Oliveira, Phillip Patton, Edward Blessington Raymond, Eric Seguin, Bill Sherman and Risa Sie; who can pursue playing music as soloists, in duos with their matched collaborators or by joining together with other musicians at Keys To The Studio to form bands. Their music, talents and ideas are listened to and taken seriously at Keys To The Studio. As the project progresses, the Keyholder Input Group garners their feedback, which then influences the design of the program. Keyholders exercise control over musical choices, instruments, compositional styles, pace, sounds and words used, projected outcomes and goals, and the rights of ownership of their final artistic product. Keyholders are encouraged and supported to pursue their self-identified aims related to the project, such as their personal goals to be a spokesperson for their work, to teach their growing skills to others, to stage manage, to fundraise, to publicize, to perform their own gigs, to establish their credentials as artists, to audition and to make a career for themselves.
At Keys To The Studio, respect, access, equal participation in society and social connections with people who share an interest in music replace the former exclusionary ways. Keyholders' unique artistic expression gains recognition and acclaim from artists, peers, audiences, caregivers and the public. In the words of one Keyholder "I liked everything about Keys To The Studio, like creating something that hasn't been created before. I learned that anything in the world is possible with a little bit of music. Keys To The Studio means learning and giving the knowledge— receive a little, give a little. Music…lifts you off the ground and makes fantasy come to reality… and makes life."
Dan Goldman
Dave Clark
Jennifer Moore
Joe Kelly
Joe Kelly is a multi-instrumentalist who performs regularly as a singer-songwriter-guitarist with his own band. In additions to his collaborative music-making at Keys To The Studio, Joe is also a music promoter, producer and live sound engineer; he has worked as music channel/content producer for Blackholetv.com and and produced major artists in Los Angeles and Dallas with songs featured in Hollywood motion pictures .
John Jowett
John Jowett is an instrumentalist (trombone, euphonium, piano), conductor, composer, arranger, teacher and Key Artistic Director of Keys To The Studio which he launched in 2007. He is classically trained (Master of Music, The Juilliard School) and has acted as Music Director or Co-Artistic Director for Hemispheres Music Projects (a jazz/new music fusion orchestra), Dancemakers, and In Absentia: The Memorial Project. He has conducted a symphony orchestra, improvised and composed for a microtonal music ensemble, recorded tracks for a variety of new Toronto bands and he currently plays in, composes for and has toured Canada, Europe and Japan with Random Order, a ska-reggae-funk band.
Lori Gemmell
Paul Kolinski
Sandro Perri
Shawn Skeir
Teppei Kamci
Teppei Kamei is a trumpeter, bassist and vocalist. In addition to collaborative music-making at Keys To The Studio, Teppei teaches music recording at the Trebas Institute and has also worked as a volunteer caregiver and as a producer and sound engineer for numerous live and recorded projects, including a Juno Award winning CD by Leela Gilday.
Celina Carroll
We are the Keyholders
Andre Oliveira
Andrew Everett
Andrew Everett is a keyboard player and computer music composer who has appeared on television for defying doctor's predictions to ride bike. Andrew's mastery of software to create his beat-driven music has been moving Keys To The Studio audiences to dance since he joined in 2008.
Brett Balaban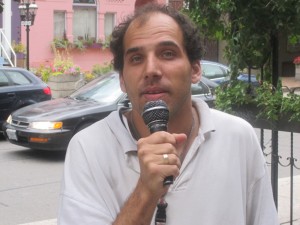 Brett Balaban is an M.C. and vocalist, who has appeared on CBC-Radio's "Definitely Not the Opera" and been invited to workshop at Harbourfront with the touring Australian theatre company Back To Back. Brett has endeared himself to audiences at Keys To The Studio concerts since it began, with his unique, comedic and moving style of performance that he describes as "all by heart and proving points".
Brian Collinge
Brian Collinge is an avid keyboard player, composer, videographer and computer trouble-shooter. who started his own band, Da Sour Lemons, 10 years ago and joined Keys To The Studio when it was launched in 2007. Brian's work in 8-bit digital music is influenced by soundtracks from electronic games.
Chris Ercolino
Eddie Demooy
Edward Blessington Raymond
Eric Seguin
Eric Seguin is a guitarist, pianist and drummer, who has been influenced by 50's, 60's and 70's rock & roll. Before joining Keys To The Studio in 2008, Eric played alone developing his ear and performance of music and now explores his own compositions.
Eugeni Berengolts
James Hazelett
Joni Fico
Lydia McLaren
Marvin McCalla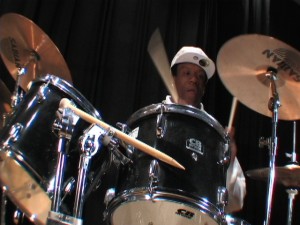 Marvin McCalla is a drummer, who graduated from Humber College. Naturally playing a full range of styles, Marvin's cool rlythms have been foundation beats for Keys To The Studio collaborations since Keys began.
Risa Sie
Michael Bandler
Categories

Articles

Calendar

February 2018
M
T
W
T
F
S
S
« Aug
1
2
3
4
5
6
7
8
9
10
11
12
13
14
15
16
17
18
19
20
21
22
23
24
25
26
27
28

Meta